Your Home and Business Security Solution
Battery operated self contained dvrs are becoming more and more popular in the surveillance industry. Law enforcement agencies and police departments use self contained security cameras in many ways. It is an economical method to perform a stake-out for a few days without having to be there. All you have to do is program the dvr camcorder, position the camera, and connect the batteries.
We offer a number of self-contained battery operated surveillance cameras. Most of these weatherproof hidden cameras can also operate from household voltage, 110-120 volts AC. The included AC power supply plugs into an outlet and converts the 110-120 volts AC to 12 volts DC. When using standard 12 volt DC batteries, they will just power the surveillance equipment directly. We sell a weatherproof low light bullet camera which in many situations does not even require any more light than the moon and stars for night-time 24/7 surveillance.
We offer our professional outdoor surveillance package with a choice of cameras being either a low .0003 lux low light B/W bullet or a day night color 600 line resolution outdoor camera with on screen display. You can select 8 amp or 22 amp batteries. The 22 amp 12 volt battery will power the dvr and camera almost 3 times longer than the 8 amp battery. The weatherproof package also comes standard with 2 of the 8 GB SD cards and can be upgraded all the way up to 32 Gb.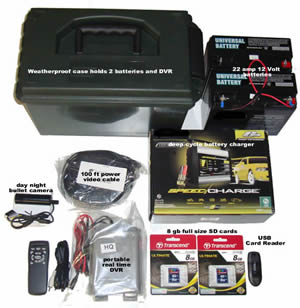 CLICK HERE FOR MORE DETAILED INFORMATION AND TO ORDER.
Self Contained Battery Operated DVR
If you need battery operated surveillance and you don't have a large budget, then consider our DVR-OGC950. It is completely self contained and can record high quality video, 12 megapixel HD snapshots, or both on one set of batteries. Recordings are stored to hidden SD card. Camera is 100% covert at night with no lights of any kind including the infrared flash. The infrared LEDs are totally invisible and have no glow. The camera gets a great color picture during the day and a great picture at night as well.
Recordings are time date stamped for your records. All recordings are stored to included SD card. Recorded footage can either be played back on the unit itself on the color screen or on your computer by connecting the SD card to your computer using a USB card reader (included).
This self-contained weatherproof outdoor battery operated camera can also be set on a timer so it only operates when you need to operate. For example you can set it to operate from 10 PM to 6 AM only.
This is one of our best selling products. Customers like it because of the battery operation and the fact that it is completely self-contained. There are absolutely no wires to deal with. Installation is a snap using the included mounting strap. Customers also love the recording quality. Crystal-clear recording quality during the day or the night. This is one of the best outdoor surveillance cameras for home.

CLICK HERE FOR MORE DETAILED INFORMATION AND TO ORDER.
DVR Camera Package with Swappable Lenses
One of the most common questions that we are what kind of lens do I need for my application? 3.6mm? 8mm? 12mm? We do have tools available to help determine what you need, but once you know what you need, you still need a product that can offer that lens.
Enter our Outdoor DVR Camera Package With Swappable Lenses. This product comes with a total of 4 different lenses. The lens widths range from quite wide to quite narrow. This ensures that you have the very best chances at getting your desired footage.
This package not only has the lenses you need, but it also provides a great picture with nothing else to buy. The entire unit is battery operated, can be set to record on a schedule or on motion detection, and has all footage timedate stamped. All footage is recorded to an included SD card. Playback recorded security footage on your TV or your computer. There is nothing else to buy.

School Bus Camera System
It seems as if it more and more common for dangerous scenarios to happen on school buses. It could be a child harassing another child or an accident or who knows what else. Regardless of the cause, it is of the utmost importance that there is video surveillance in your child's school bus.
Check with your school to find out if your child's bus has bus surveillance systems. If not, insist that they do. Video in buses can be installed for much less than you think and can save you or your child.
Our school bus camera system records both video and audio. It can be set to record all of the time or just on motion detection. Recordings are all timedate stamped and are stored to an SD card for easy portability of video footage.

CLICK HERE FOR MORE DETAILED INFORMATION AND TO ORDER.